Italy's deal with Libya to 'pull back' migrants faces legal challenge
Migrants who are returned to Libya subjected to grave human rights violations, lawsuit claims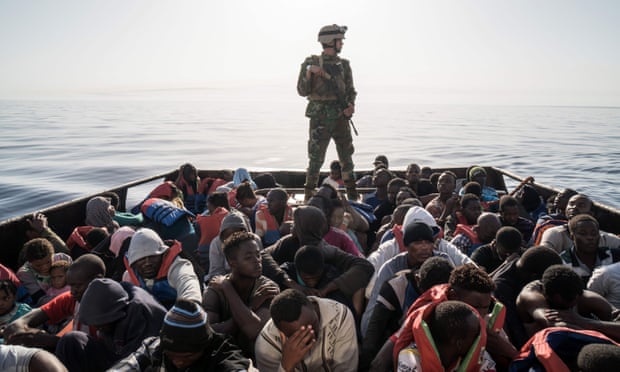 Italy's collaboration with Libya to stop migrants reaching Europe is facing a legal challenge over allegations that it has led to grave human rights violations against those crossing the Mediterranean, including torture and slavery.
A lawsuit filed in the European court of human rights (ECHR) alleges that Italy's work with the Libyan coastguard, which has stopped migrant boats at Italy's behest and forced thousands of people to return to Libya against their will, has subjected them to inhumane conditions, beatings, rape and starvation.
The lawsuit, based on the account of 17 survivors of a boat sinking who were taken back to Libya, could pose a serious threat to a deal struck last year between Italy's centre-left government and Libya. It was endorsed by European leaders and has been credited with dramatically lowering the number of migrants arriving on Italy's southern coast.
Under the terms of the deal, Italy agreed to train, equip and finance the Libyan coastguard as part of its effort to turn back vessels and return migrants to Libya.
The case brought by the UK-based charity Global Legal Action Network centres on an incident on 6 November 2017 in which the Libyan coastguard allegedly interfered in attempts by an NGO vessel to rescue 130 migrants from a sinking dinghy.
About 20 people died in the incident. Survivors were "pulled back" to Libya, according to the lawsuit, where they endured detention and extreme violence in inhumane conditions, with two survivors being "sold" and electrocuted.
"They are putting migrants' lives at risk and exposing them to extreme forms of ill treatment by pulling them back to Libya by proxy," said Itamar Mann, a legal adviser. "We hope this new case will serve to establish the key principle that so-called 'pull-backs' are contrary to basic human rights standards."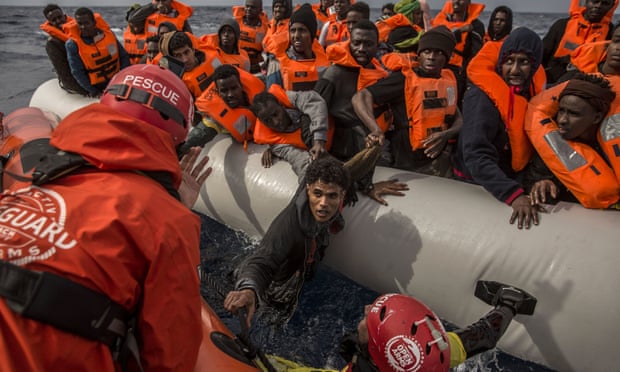 For migrants and human rights activists, the legal challenge may represent the biggest hope for change. It comes six years after the ECHR found that a similar deal – agreed between Silvio Berlusconi, then the Italian prime minister, and the Libyan leader Muammar Gaddafi – violated human rights laws. The deal was later suspended.
The current Italy-Libya deal has led to clashes between NGOs that cross the Mediterranean on rescue missions and Libyan authorities.
In some cases, the NGOs have allegedly been threatened with violence if they did not turn over migrants on their vessels who had been rescued, with the